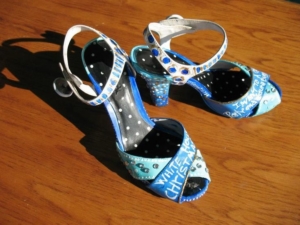 I have painted clothing for special events since I was young. Several years ago, I formally entered the world of art fashion when I participated in Art Walks the Runway at the Sidney & Berne Davis Art Center. Not long after, I partnered with Bealls Department Store, providing them with art for casual wear, home goods and other products. The line has expanded every year now for the past five years.
Nowadays my everyday wardrobe includes hand-painted tops, slacks and heels. So many heels! I wear them everywhere.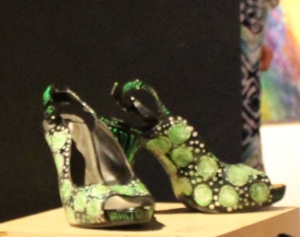 Not just around Lovegrove Gallery & Gardens, but when I go to the grocery, run errands or go to lunch or dinner with my husband, Mike. They always get a second look from people as I'm out and about.
I love it when someone at the checkout counter asks to have their picture taken with me … but I know it's the fun painted top, jacket or shoes they want to photograph.
I have become known almost as much for my hand-painted heels as my jazz-hands sunglasses. So much so that the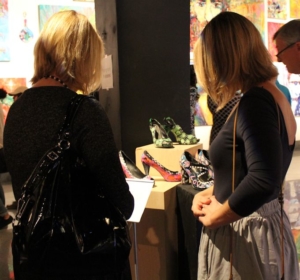 Sidney & Berne Davis Art Center included a collection of my hand-painted heels in the retrospective they exhibited of my art in January.
So if you bump into me in the gallery or around town, look down. That ain't no Manolo Blahniks on my feet. They're hand-painted Lovegrove originals!
Priceless.