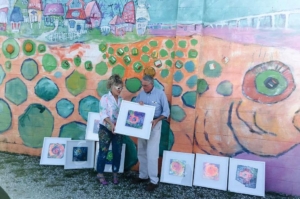 I have exciting news. Congressman Francis J. Rooney has purchased my entire series of Hurricane Irma paintings! I know he'll give the collection a good home, and his acquisition of the series gives me the opportunity to help the South Florida Red Cross during this time when so many of our family and friends continue to recover from the storm.
I was pleased and honored to support Francis Rooney during h
is successful run for Congress a year ago. In fact, I even hosted and meet-and-greet fundraiser for him at Lovegrove Gardens. My support and admiration was based, among other factors, on his dedication to dealing with the discharges from Lake Okeechobee and commitment to ensuring water quality in the Caloosahatchee River and Gulf of Mexico.
At the event, I gave him one of my heart paintings as a token of my esteem. He returned the favor by giving Mike and I tickets to attend President Trump's inauguration.
I was, and am, impressed by Mr. Rooney's record as a successful businessman.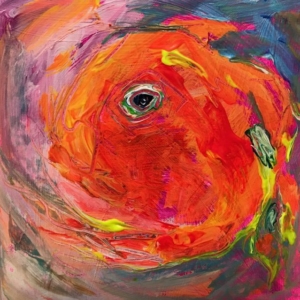 He brings decades of much-needed private sector experience to Washington. He and his family started Rooney Holdings, Inc., a diversified, international group of companies based in Naples, Florida. Since 1984 RHI has created jobs and economic opportunities in Southwest Florida and throughout the United States, and one of the company's subsidiaries is Manhattan Construction Company, a diversified construction group founded in 1896. Notable Southwest Florida projects include Fort Myers' downtown streetscape, the Lee County Jail and a number of improvements on Florida Gulf Coast University's campus, including Biscayne Hall, Alico Arena, Holmes Hall, Academic Building 7 and the solar power plant.
S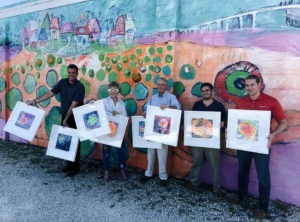 ignificant projects around the United States include the Presidential Libraries for both George H. W. Bush in College Station and George W. Bush in Dallas, the Dallas Cowboys stadium, the U.S. Capitol Visitors' Center, the Walter Reed Army Institute for Research and the International Terminal at Hartsfield-Jackson Airport in Atlanta.
In addition to his business career, Francis Rooney and his family have a longstanding tradition of public and community service. He was appointed by President George W. Bush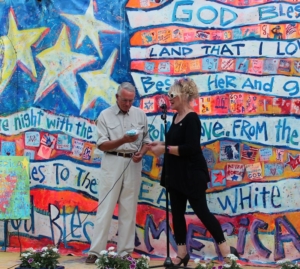 to serve as U.S. Ambassador to The Holy See from 2005 to 2008 and has also served on numerous public and private boards, including Naples Community Hospital, the Florida Gulf Coast University Foundation, The Center for the Study of the Presidency and Congress and the Advisory Commission of the Panama Canal.
Francis Rooney is a proud husband, father of three and grandfather of two. He is a life-long conservative who is dedicated to the most vulnerable among us, the unborn. He is committed to being their advocate in Washington, and that has not only won him my support, but the endorsement of the C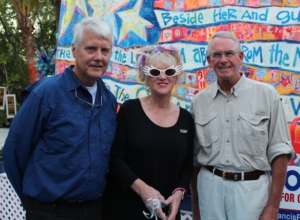 oncerned Women Political Action Committee, part of the nation's largest public policy women's organization.
A graduate of Georgetown University (A.B. 1975) and Georgetown University Law Center (J.D. 1978), Rooney holds honorary degrees from the University of Notre Dame (2006) and the University of Dallas (2010). He is a former member of the District of Columbia and Texas Bars, holds a U.S. Coast Guard 100 Ton Masters License (sailing endorsement) and is a lifetime member of the National Rifle Association.
H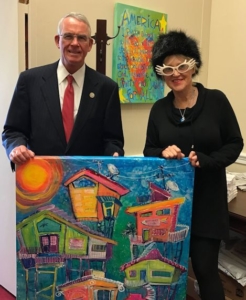 e and his wife, Kathleen, live in Southwest Florida and have three children: Larry, married to Porscha; Michael; and Kathleen, one grandson, Beckett, and one granddaughter, Bergen.
In addition to honoring me with his recent purchase of the Hurricane Irma series, Congressman Rooney recognized me on the floor of the United States House of Representatives this past February. This is what he said:
"Mr. Speaker, I rise today in honor of a creative visionary in Florida's 19th district–Leoma Lovegrove. As an excerpt from the Fort Myers News-Press says, `Walking into Lovegrove Gallery & Gardens is like walking into a rainbow full of eye-popping neon pinks, oranges, p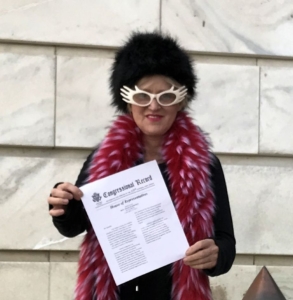 urples, greens and blues . . . She applies her paintbrush to everything from cats to hearts to The Beatles.
"Leoma Lovegrove is an impressionist-expressionist painter known for her vivid paintings and colorful imagery. Leoma first started her art career making pottery, belt buckles and even decorated cow skulls. Then, a little over 20 years ago, she made her way to Matlacha–a small island community that became her home and her headquarters. Her artwork is represented in numerous galleries all over the world, including England and France.
"In fact, Leoma was the first American to paint on the replica of Claude Monet's floating studio in Giverny,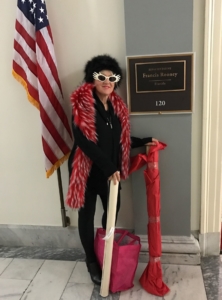 France and the first American painter to have an exhibition in the famous Pierre Bonnard home in Vernon, France.
"I applaud Leoma and her art studio, Lovegrove Gallery & Gardens, which has brought thousands of visitors to Matlacha and all of Southwest Florida. Leoma is inspired to paint with endless imagination, and her contribution to the arts, culture and economy of Southwest Florida deserves our recognition. She has inspired artists in us all."
I'm not sure where Congressman Rooney intends to hang the Irma collection, but check back and I'll let you know.
Thank you Congressman Francis Rooney for your support of our nation, the 19th Congressional District and all you are doing for our community.