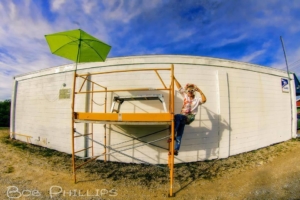 Those of us who live and work in Matlacha really love and treasure our little, one mile by one mile island. We are conversant with its history, and how our artist enclave rose from the ashes of the fishing community that was essentially put out of business by a net ban referendum that was adopted by voters in the 1990s. And so we wanted a public artwork that would share our pride and history with visitors arriving by way of the fishingest bridge in the world.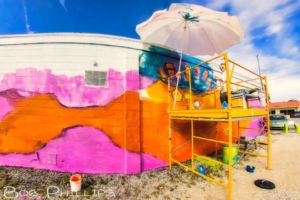 That's what I was trying to convey when I painted The Catch of Matlacha Island on the east wall of the post office building.
I've heard people object to spending money on public artworks. The criticism is misguided, and I say that not because I'm an artist, but because I recognize the value of having public art in our towns, communities and college campuses. Urban planners and art consultants who've studied the subject believe that a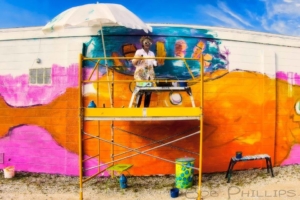 vital and robust public art program:
enhances and defines a city's identity;
boosts and strengthens civic pride;
reflects the unique character and history of the city;
burnishes the city's image to the outside world;
creates an important positive impression for visitors;
enables the community to attain recognition as a regional and national leader in the visual arts;
symbolizes a community's maturity;
expresses the vision of community leaders;
makes a statement about the community's values and culture;
elevates the image of proximately-located corporate enterprises;
spurs economic development in the community;
creates visual and aesthetic landmarks;
creates positive mental images;
imparts a more aesthetic, cohesive visual and physical appearance;
enriches the public environment visually;
makes the beautification of the city a matter of the highest priority;
enhances the climate for artistic creativity in the community;
brings art and art education to the entire community;
creates public art community partnerships linking individuals of all  races, ethnicities, age, genders, professions, and economic levels;
stimulates our imagination;
promotes excellence and diversity through a variety of artists and media;
provides tangible outlets for creative ingenuity;
increases property values;
enriches the cultural climate of the city;
reflects and enhances the city's  diversity, character and heritage through the integration of artworks and designs  in the architecture, infrastructure and landscape on public and private property;
makes a space seem more welcoming;
creates a deeper interaction with the place one is visiting or working in;
increases awareness of how surroundings impact experience;
expresses shared ideals and concepts;
enhances the quality of life for residents and property owners;
adds to the visual quality of life;
engages the community;
draws people together and induces strangers to talk to each other;
raises the level of citizen awareness to the importance of aesthetic and intellectual experiences in everyday life;
promotes understanding and awareness of visual arts in the public realm;
makes a commitment to future generations; and
creates "human scaling" of open areas by framing the space with various forms of public art structures.
You can see these principles in action with respect to The Catch of Matlacha Island. The mural definitely creates a positive visual impression for visitors, and many folks today identify it with Matlacha Island. It not only reflects our unique character and history, it makes a statement about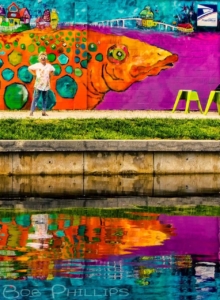 our community values and culture. In fact, it is a stop on every walking tour of Matlacha Island that people take throughout the year. In the words of one public art advisory board, "a town with public art is a town that believes in itself, thinks creatively and feels deeply."
If you haven't seen our mural, then plan a trip to Matlacha Island. Stay the day. There's lots to do and it all starts at Lovegrove Gallery & Garden.